16.06.2018 | Methodologies and Application | Ausgabe 15/2019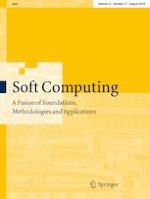 The social team building optimization algorithm
Zeitschrift:
Autoren:

Xiang Feng, Hanyu Xu, Yuanbo Wang, Huiqun Yu
Wichtige Hinweise
Publisher's Note
Springer Nature remains neutral with regard to jurisdictional claims in published maps and institutional affiliations.
Abstract
A wolf pack can hunt prey efficiently due to reasonable social team hierarchy and effective team cooperation. Inspired by the collective intelligence of wolf pack, in this paper, a novel swarm algorithm named the social team building optimization (STBO) algorithm is proposed for solving optimization problems. In order to mimic the method of social team building, which is an optimization process in reality, STBO algorithm is in terms of social team hierarchy, team building state and process control. Firstly, the social team model separates individuals of population into different swarms according to the appropriate team hierarchy. In this way, the proposed algorithm not only has fast search speed but also avoids to fall into the local optimum prematurely. Secondly, the team building state model divides the optimization process into three states. In different states, individuals at different levels act diverse social behaviors to make the algorithm maintain population diversity and possess better search capability. Thirdly, the team power model is designed to determine the states of optimization process by means of the team power and the team cohesion. The main aim of this model is to make the algorithm have a good balance between exploration and exploitation, namely to find the optimal solutions as possible as it can. Moreover, the mathematical models of STBO are educed by the swarm theory, the state evolution theory and the energy–entropy theory. Meanwhile, the convergence property of the presented algorithm has been analyzed theoretically in this paper. And STBO was compared to three classical nature-inspired algorithms on 11 basic standard benchmark functions and also three state-of-the-art evolutionary methods on
CEC2016 competition on learning-based single-objective optimization
. Some simulation results have shown the effectiveness and high performance of the proposed approach.