2016 | OriginalPaper | Buchkapitel
4. Thin Polymer Films and Polymer Brushes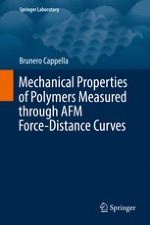 Erstes Kapitel lesen
Autor: Brunero Cappella
Abstract
The determination of mechanical properties via force–distance curves outlined in the previous chapter, most of all through force–volume measurements, is rather complex and time-consuming. For example, for the determination of the elastic modulus of PnBMA as a function of temperature shown in Sect.
3.​14
, several thousand curves had to be acquired and analysed. This requires much more time than the measurement and the analysis with, e.g., DMA.
On the other hand, AFM is able to determine the mechanical properties of samples, which cannot be analysed with other techniques. The fundamental difference between AFM and other techniques such as DMA or also nanoindentation is that an AFM enables to determine the local properties of the sample, whereas other techniques give information only about the bulk properties. Hence, an AFM can be employed to study inhomogeneous samples, i.e. samples consisting of two or more phases with one or more interfaces.
There are two wide categories of inhomogeneous samples: thin films and blends. Blends are the object of Chap.
5
. In this chapter, thin polymer films and a particular category of them, i.e. polymer brushes, are handled.