09.01.2017 | Commentary | Ausgabe 6/2017 Open Access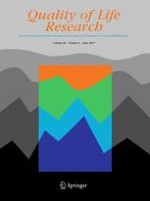 Toward mindfulness in quality-of-life research: perspectives on how to avoid rigor becoming rigidity
Zeitschrift:
Autoren:

Mirjam A. G. Sprangers, Carolyn E. Schwartz
Wichtige Hinweise
M. A. G. Sprangers and C. E. Schwartz have contributed equally to this work.
Abstract
Background
The field of quality-of-life (QOL) research has matured into a discipline with scientific rigor, sophisticated methods, and guidelines. While this maturation is laudable and needed, it can result in a limiting rigidity. We aim to highlight examples of practices that are based on shared research values and principles that, when dogmatically applied, may limit the potential impact of QOL research.
Methods
By juxtaposing rigorous standards with their rigid application for different stages of the research cycle, we suggest more balanced approaches.
Results
Rigidity in cultivating a research question relates to constraining our thinking, leading to 'safe' research focusing on small variations of similar studies. Rigidity in operationalizing key constructs focuses on problems with validation practices that hinder further innovations, the use of static questionnaires when a more flexible approach is needed, dismissing rarely endorsed items that are clinically relevant, use of insensitive generic measures when specific measures are required, and a rigid emphasis on short questionnaires. Rigidity in data analysis relates to an undue emphasis on delineating primary and secondary outcomes and an unquestioned insistence on reducing Type 1 errors regardless of the research context. Rigidity in research infrastructure focuses on the unquestioned validity of patient input on scientific matters, and increasingly rigid guidelines and checklists that end up driving grant applications.
Discussion
It is hoped that this overview will lead to a reconsideration of a more flexible application of research principles while retaining scientific rigor.