23.05.2017 | Ausgabe 3/2017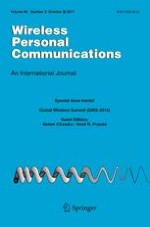 Towards Energy Efficiency and Stability in Heterogeneous Wireless Sensor Networks
Zeitschrift:
Autoren:

Rawya Rizk, Fifi Farouk, Fayez W. Zaki
Abstract
As a result of the increased demand of wireless sensor networks (WSNs) reliability, classical clustering protocols that assume all the nodes have the same amount of energy cannot take full advantage of the presence of heterogeneity. In this paper, a Stable and energy efficient clustering protocol for heterogeneous WSNs is proposed. It depends on the network structure that is divided into clusters. Each cluster has a powerful advanced node (
AN
) and some of normal nodes (
NNs
). The
NN
s make the sensing operation;
AN
then aggregates all data coming from its cluster and transmits them to the base station. The optimum number of
ANs
and the required energy for them with respect to the
NN
s are analytically obtained in order to guarantee minimum energy consumption of the network. The performance of the proposed protocol is compared by the existing homogeneous and heterogeneous protocols. Simulation results show that the proposed protocol provides more energy efficiency and stability than the existing protocols.