2016 | OriginalPaper | Buchkapitel
Towards Proofs of Ownership Beyond Bounded Leakage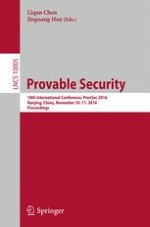 Erstes Kapitel lesen
Autoren: Yongjun Zhao, Sherman S. M. Chow
Abstract
Cloud servers save their storage cost by applying deduplication. Duplicated copies of the same file uploaded by the cloud service clients can be reduced to a single copy by maintaining a list of clients who own the same file. Nowadays it is a common practice to rely on the message digest of the file for showing its possession. Yet, this property has been exploited to make the cloud storage service effectively become a content distribution network, by sharing a short message digest.
Proof of ownership (PoW) has been proposed to address this problem. PoW is an interactive protocol by which the prover can prove to the verifier about the ownership of a file. Under this setting, the adversary is motivated to leak some knowledge of the file, for helping a non-owner to also claim ownership. We are intrigued to ask, what is the strongest possible form of leakage, such that a PoW protocol can be provably secure?
In this paper, we propose a leakage-resilient PoW under a strong model, such that any adversary who holds leakage derived from a form of one-way function cannot falsely claim the file ownership.