01.08.2014 | Ausgabe 6/2014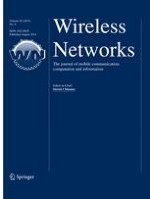 TRack others if you can: localized proximity detection for mobile networks
Zeitschrift:
Autoren:

Chi Zhang, Jun Luo
Abstract
For a set of mobile users with designated friendship relations, it is a recurring issue to keep track of whether some friends appear in the vicinity of a given user. While both distributed and centralized solutions for proximity detection have been proposed, the cost metrics for evaluating these proposals are always based on counting the
number
of message (e.g., query or update) exchanges. However, as mobile users often rely on wireless networks to maintain their connectivity, the cost incurred by any message passing is strongly affected by the distance between the sender and receiver. In this paper, we propose TRack Others if You can (TROY) as a novel distributed solution for proximity detection. Extending the principle of spatial tessellations, TROY incurs only localized message exchanges and is thus superior to existing proposals in terms of more realistic cost metrics that take into account the
actual energy consumption
of message passing. Moreover, our spatial tessellations inspired analytical framework allows for a meaningful comparison with an existing work. Finally, we use extensive experiments to validate the efficiency of TROY.