01.08.2014 | Aufsatz | Ausgabe 4/2014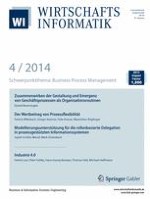 Über das Zusammenwirken der Gestaltung und Emergenz von Geschäftsprozessen als Organisationsroutinen
Zeitschrift:
Autor:

PD Dr. Daniel Beverungen
Wichtige Hinweise
Angenommen nach einer Überarbeitung durch Prof. Dr. Martin Bichler.
Der aktuelle Beitrag ist eine Weiterentwicklung von Beverungen D (2013) On the design of IT artifacts and the emergence of business processes as organizational routines. In: 34th International conference on information systems, Milan, Italy.
Zusammenfassung
Die Entwicklung und Implementierung von Geschäftsprozessen wird primär als eine von oben nach unten durchgeführte Implementierung der Geschäftsstrategie verstanden. Obwohl diese Sichtweise zur Entwicklung vieler nützlicher IT-Artefakte für das Geschäftsprozessmanagement geführt hat, ist sie inkonsistent mit der Konzeption von driftenden Informationsinfrastrukturen, die sich einer vollständigen Steuerbarkeit entziehen. Als Lösungsbeitrag wird im vorliegenden Artikel ein theoretischer Rahmen entwickelt, in dem Geschäftsprozesse als emergente Organisationsroutinen verstanden werden, die mithilfe von IT-Artefakten abgebildet, ermöglicht und beschränkt werden. Die Entwicklung von IT-Artefakten wird einerseits als ein hierarchischer Konstruktionsprozess, andererseits als ein sozialer Konstruktionsprozess verstanden. Als Organisationsroutinen weisen Geschäftsprozesse ostensive und performative Aspekte auf, die eine sich gegenseitig konstituierende Dualität bilden. Durch eine Diskussion verwandter Forschungsarbeiten wird gezeigt, dass dieses Verständnis eine neue Perspektive auf das Geschäftsprozessmanagement darstellt. Der entwickelte theoretische Rahmen kann nachfolgende empirische Untersuchungen des Zusammenwirkens der Gestaltung und Emergenz von Geschäftsprozessen fundieren.