01.09.2015 | Original Paper | Ausgabe 17/2015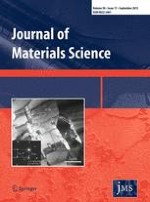 Vanadium oxide films deposited on sapphire substrate with in situ AlN stress layer: structural, electric, and optical properties
Zeitschrift:
Autoren:

Jiming Bian, Lihua Miao, Shukuo Zhao, Xiaoxuan Li, Chongwen Zou, Dong Zhang, Yuzhi Zhang
Abstract
Vanadium oxide (VO
x
) thin films were grown on single crystal sapphire substrates by pulsed laser deposition under various O
2
partial pressures. In situ AlN layer was inserted between the substrate and VO
x
films as induced stress layer. The significant influences of AlN layer on the structural, electric, and optical properties of the as-grown films were investigated systemically. The results indicated that pure monoclinic phase VO
2
film with (020) preferred orientation was successfully achieved under the optimized O
2
partial pressure. Moreover, a lowered semiconductor-to-metal transition temperature and a higher optical transmittance in visible and near-infrared regions were achieved due to the introduction of AlN-induced stress layer. Our achievements suggested that it might be a promising method to modulate VO
2
transition characteristics by inducing AlN-induced stress layer.