2018 | OriginalPaper | Buchkapitel
Virtual Learning Environments for Promoting Self Transformation: Iterative Design and Implementation of Philadelphia Land Science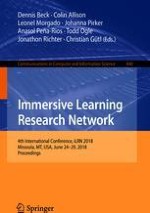 Autoren: Aroutis Foster, Mamta Shah, Amanda Barany, Mark Eugene Petrovich Jr., Jessica Cellitti, Migela Duka, Zachari Swiecki, Amanda Siebart-Evenstone, Hannah Kinley, Peter Quigley, David Williamson Shaffer
Abstract
The objective of this design-based research study was to develop, implement and refine
Philadelphia Land Science (PLS)
, an interactive web-based experience designed to support learning framed as identity exploration over time, leading to identity change around environmental science and urban planning careers.
PLS
was developed using Projective Reflection (PR) and tested with high school students at a science museum in Philadelphia as part of a larger on-going study funded by the National Science Foundation (Foster
2014
). Projective Reflection (PR) frames learning as identity exploration and change to inform the design of games and game-based learning curricula to facilitate intentional change in learners' (a) knowledge, (b) interest and valuing, (c) self-organization and self-control, and d) self-perceptions and self-definitions in academic domains/careers. Change is tracked from a learner's initial current self, through exploration of possible selves (measured repeatedly), to a learner's new self at a desired specific end-point (Shah et al.
2017
). PLS was constructed through the modification of the virtual internship
Land Science
, and capitalized on the strengths of its design features, which were informed by the Epistemic Frames Theory (Shaffer
2006
). The paper introduces two iterations of
PLS
and concludes with implications for design and implementation of games for facilitating identity change. Implications are discussed for advancing research on learning and identity in immersive virtual environments.