28.01.2016 | Ausgabe 8/2016 Open Access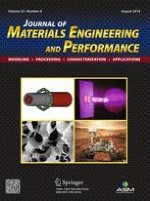 Wettability and Reactivity of ZrB2 Substrates with Liquid Al
Zeitschrift:
Autoren:

R. Nowak, N. Sobczak, G. Bruzda, J. Wojewoda-Budka, L. Litynska-Dobrzynska, M. Homa, I. Kaban, L. Xi, L. Jaworska
Wichtige Hinweise
Electronic supplementary material
The online version of this article (doi:
10.​1007/​s11665-016-1909-7
) contains supplementary material, which is available to authorized users.
This article is an invited submission to JMEP selected from presentations at the Symposium "Wetting and High-Temperature Capillarity," belonging to the Topic "Joining and Interfaces" at the European Congress and Exhibition on Advanced Materials and Processes (EUROMAT 2015), held September 20-24, 2015, in Warsaw, Poland, and has been expanded from the original presentation.
Abstract
Wetting characteristics of the Al/ZrB
2
system were experimentally determined by the sessile drop method with application of separate heating of the ZrB
2
and Al samples and combined with in situ cleaning of Al drop from native oxide film directly in vacuum chamber. The tests were performed in ultrahigh vacuum of 10
−6
mbar at temperatures 710, 800, and 900 °C as well as in flowing inert gas (Ar) atmosphere at 1400 °C. The results evidenced that liquid Al does not wet ZrB
2
substrate at 710 and 800 °C, forming high contact angles (
θ
) of 128° and 120°, respectively. At 900 °C, wetting phenomenon (
θ
< 90°) occurs in 29th minute and the contact angle decreases monotonically to the final value of 80°. At 1400 °C, wetting takes place immediately after drop deposition with a fast decrease in the contact angle to 76°. The solidified Al/ZrB
2
couples were studied by scanning and transmission electron microscopy coupled with x-ray energy diffraction spectroscopy. Structural characterization revealed that only in the Al/ZrB
2
couple produced at the highest temperature of 1400 °C new phases (Al
3
Zr, AlB
2
and α-Al
2
O
3
) were formed.