05.03.2016 | Ausgabe 1/2017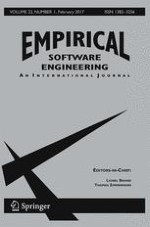 Zen-ReqOptimizer: a search-based approach for requirements assignment optimization
Zeitschrift:
Autoren:

Yan Li, Tao Yue, Shaukat Ali, Li Zhang
Wichtige Hinweise
Communicated by: Daniel Amyot
Abstract
At early phases of a product development lifecycle of large scale Cyber-Physical Systems (CPSs), a large number of requirements need to be assigned to stakeholders from different organizations or departments of the same organization for review, clarification and checking their conformance to standards and regulations. These requirements have various characteristics such as extents of importance to the organization, complexity, and dependencies between each other, thereby requiring different effort (workload) to review and clarify. While working with our industrial partners in the domain of CPSs, we discovered an optimization problem, where an optimal solution is required for assigning requirements to various stakeholders by maximizing their familiarity to assigned requirements, meanwhile balancing the overall workload of each stakeholder. In this direction, we propose a fitness function that takes into account all the above-mentioned factors to guide a search algorithm to find an optimal solution. As a pilot experiment, we first investigated four commonly applied search algorithms (i.e., GA, (1 + 1) EA, AVM, RS) together with the proposed fitness function and results show that (1 + 1) EA performs significantly better than the other algorithms. Since our optimization problem is multi-objective, we further empirically evaluated the performance of the fitness function with six multi-objective search algorithms (CellDE, MOCell, NSGA-II, PAES, SMPSO, SPEA2) together with (1 + 1) EA (the best in the pilot study) and RS (as the baseline) in terms of finding an optimal solution using an real-world case study and 120 artificial problems of varying complexity. Results show that both for the real-world case study and the artificial problems (1 + 1) EA achieved the best performance for each single objective and NSGA-II achieved the best performance for the overall fitness. NSGA-II has the ability to solve a wide range of problems without having their performance degraded significantly and (1 + 1) EA is not fit for problems with less than 250 requirements Therefore we recommend that, if a project manager is interested in a particular objective then (1 + 1) EA should be used; otherwise, NSGA-II should be applied to obtain optimal solutions when putting the overall fitness as the first priority.