30.01.2020 | Methodologies and Application | Ausgabe 17/2020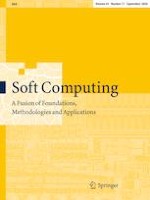 A binary social spider algorithm for continuous optimization task
Zeitschrift:
Autoren:

Emine Baş, Erkan Ülker
Wichtige Hinweise
Publisher's Note
Springer Nature remains neutral with regard to jurisdictional claims in published maps and institutional affiliations.
Abstract
The social spider algorithm (SSA) is a new heuristic algorithm created on spider behaviors. The original study of this algorithm was proposed to solve continuous problems. In this paper, the binary version of SSA (binary SSA) is introduced to solve binary problems. Currently, there is insufficient focus on the binary version of SSA in the literature. The main part of the binary version is at the transfer function. The transfer function is responsible for mapping continuous search space to discrete search space. In this study, four of the transfer functions divided into two families, S-shaped and V-shaped, are evaluated. Thus, four different variations of binary SSA are formed as binary SSA-Tanh, binary SSA-Sigm, binary SSA-MSigm and binary SSA-Arctan. Two different techniques (SimSSA and LogicSSA) are developed at the candidate solution production schema in binary SSA. SimSSA is used to measure similarities between two binary solutions. With SimSSA, binary SSA's ability to discover new points in search space has been increased. Thus, binary SSA is able to find global optimum instead of local optimums. LogicSSA which is inspired by the logic gates and a popular method in recent years has been used to avoid local minima traps. By these two techniques, the exploration and exploitation capabilities of binary SSA in the binary search space are improved. Eighteen unimodal and multimodal standard benchmark optimization functions are employed to evaluate variations of binary SSA. To select the best variations of binary SSA, a comparative study is presented. The Wilcoxon signed-rank test has applied to the experimental results of variations of binary SSA. Compared to well-known evolutionary and recently developed methods in the literature, the variations of binary SSA performance is quite good. In particular, binary SSA-Tanh and binary SSA-Arctan variations of binary SSA showed superior performance.