11.08.2015 | Original Paper | Ausgabe 1/2016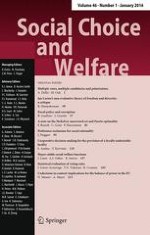 A note on the McKelvey uncovered set and Pareto optimality
Zeitschrift:
Autoren:

Felix Brandt, Christian Geist, Paul Harrenstein
Wichtige Hinweise
This material is based on work supported by Deutsche Forschungsgemeinschaft under Grants BR 2312/7-2 and BR 2312/9-1. Paul Harrenstein is supported by the ERC under Advanced Grant 291528 ("RACE"). The paper has benefitted from discussions at the 12th Meeting of the Society for Social Choice and Welfare in Boston (June 2014) as well as the Dagstuhl Seminar on Computational Social Choice (June 2015). The authors furthermore thank Jean-François Laslier and Hans Georg Seedig for helpful discussions and technical support.
Abstract
We consider the notion of Pareto optimality under the assumption that only the pairwise majority relation is known and show that the set of necessarily Pareto optimal alternatives coincides with the McKelvey uncovered set. As a consequence, the McKelvey uncovered set constitutes the coarsest Pareto optimal majoritarian social choice function. Moreover, every majority relation is induced by a preference profile in which the uncovered alternatives precisely coincide with the Pareto optimal ones. We furthermore discuss the structure of the McKelvey covering relation and the McKelvey uncovered set.