15.02.2020 | Ausgabe 6/2020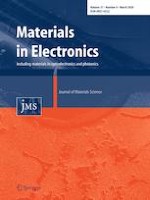 A novel PEDOT:PSS/SWCNH bilayer thin film counter electrode for efficient dye-sensitized solar cells
Autoren:

A. C. Kasi Reddy, M. Gurulakshmi, K. Susmitha, M. Raghavender, Narayana Thota, Y. P. Venkata Subbaiah
Wichtige Hinweise
Electronic supplementary material
Publisher's Note
Springer Nature remains neutral with regard to jurisdictional claims in published maps and institutional affiliations.
Abstract
Thin platinum deposited over fluorine-doped tin oxide glass substrate is a well-known and widely used counter electrode for efficient dye-sensitized solar cells. In this paper, we investigated a potential and Pt-free bilayer thin film counter electrode based on single wall carbon nanohorn over PEDOT:PSS film. The bilayer thin film counter electrode was developed using a simple spin coat process. The results of atomic force microscope and scanning electron microscope unveil the uniform distribution of single wall carbon nanohorns over PEDOT:PSS with average size of 76 nm. The extensive electrochemical analysis demonstrated superior electrocatalytic behavior for bilayer counter electrode with lower peak-to-peak separation potential of 0.6 V, lower
R
s and
R
CT
values of 25.9 Ω and 399 Ω, and higher
J
o
value of 2.4 mA cm
−2
. The fabricated DSSC using bilayer counter electrode witnessed higher power conversion efficiency of 5.1%, compared to PEDOT:PSS (3.87%) and SWCNH (1.88%), and is almost equivalent to the platinum-based counter electrode (5.53%). The present study of bilayer counter electrode has great potential in terms of low-cost and non-platinum counter electrode for dye-sensitized solar cell applications.