01.08.2013 | Original Paper | Ausgabe 4/2013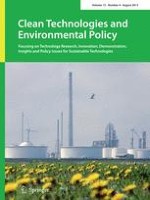 Acrylic acid–allylpolyethoxy carboxylate copolymer as an environmentally friendly calcium carbonate and iron(III) scale inhibitor
Zeitschrift:
Autoren:

Jingyi Huang, Guangqing Liu, Yuming Zhou, Qingzhao Yao, Yong Yang, Lei Ling, Huchuan Wang, Ke Cao, Yahui Liu, Peixin Zhang, Wendao Wu, Wei Sun
Abstract
A novel environmentally friendly type of calcium carbonate and iron(III) scale inhibitor AQ
n
was synthesized. The anti-scale property of the AQ
n
copolymer toward CaCO
3
and iron(III) in the artificial cooling water was studied through static scale inhibition tests. The observation shows that both calcium carbonate and iron(III) inhibition increase with increasing the degree of polymerization of AQ
n
from 5 to 15, and the dosage of AQ
n
plays an important role on calcium carbonate and iron(III) inhibition. The effect on formation of CaCO
3
was investigated with combination of scanning electronic microscopy, transmission electron microscopy, X-ray powder diffraction analysis, and Fourier-transform infrared spectrometer, respectively. Inhibition mechanism is proposed that the interactions between calcium or iron ions and polyethylene glycol are the fundamental impetus to restrain the formation of the scale in cooling water systems.