07.06.2018 | Original Paper | Ausgabe 1/2019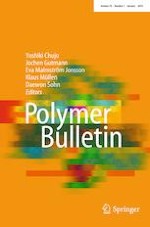 An escalation of anticorrosion and microelectrical properties of polyurethane nanocomposites from green
Brassica nigra

oil
Zeitschrift:
Autoren:

V. Selvaraj, T. R. Rhagavarshini, K. Krishnadevi
Abstract
Brassica nigra
oil-based polyurethane composites have been synthesized and characterized by various analytical techniques such as Fourier transform infrared, NMR, X-ray diffraction, scanning electron microscope, atomic force microscopy, DSC and TGA. Broadband dielectric spectroscopy confirms the improvement in the dielectric properties of the prepared composites (AGO/BNP/PH) with respect to increasing AGO content. The analytical results conclude that graphene oxide-reinforced
Brassica nigra
oil-based polyurethane nanocomposites show improved thermal, Tg, dielectric constant and decreased dielectric loss with respect to different ratios of amine-functionalized graphene oxide. Further, the corrosion resistance behavior analysis results conclude that the prepared bio-composites have excellent corrosion-resistant property (96.93%) compared to neat
Brassica nigra
oil-based polyurethane polymer, which can be used as coating material for marine and also in microelectronic applications.