07.06.2018 | Original Paper | Ausgabe 1/2019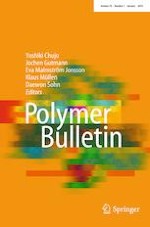 Synthesis and characterization of poly(ester amide amide)s of different alkylene chain lengths
Zeitschrift:
Autoren:

Clément Girard, Manisha Gupta, Abdelaziz Lallam, Denis V. Anokhin, Polina V. Bovsunovskaya, Azaliya F. Akhyamova, Alexey P. Melnikov, Alexey A. Piryazev, Alexander I. Rodygin, Andrey A. Rychkov, Kseniia N. Grafskaya, Ekaterina D. Shabratova, Xiaomin Zhu, Martin Möller, Dimitri A. Ivanov
Wichtige Hinweise
Clément Girard and Manisha Gupta have contributed equally to the work.
Manisha Gupta: Deceased 1st November 2017.
Abstract
In this work, a series of aliphatic biodegradable poly(ester amide amide) polymers was synthesized by melt polycondensation of a tailor-made amide-containing monomer based on 1,4-diaminobutane and
ε
-caprolactone and different dicarboxylic acid methyl esters with even number of methylene groups. The synthesized polymers were characterized by
1
H NMR, FT-IR spectroscopy, GPC, SAXS and WAXS. DSC results show that the melting point is located at about 150 °C for all polymers. X-ray scattering experiments in small and wide angles reveal formation of crystals with extended-chain conformation resulting in strict periodicity of electron density along the main chain. TGA data indicate the high thermal stability of polymers to temperatures above 350 °C, which are much above the melting point. The obtained characteristics of the newly synthesized PEAAs can open new perspectives for melt processing to fabricate films, highly oriented fibers and injection-molded parts with good thermal stability and mechanical performance.