08.07.2021 | ORIGINAL ARTICLE | Ausgabe 7-8/2021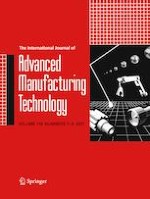 An intelligent control approach for defect-free friction stir welding
Autoren:

Richard Cobos, Santiago D. Salas, Wilfredo Angulo, T. Warren Liao
Wichtige Hinweise
Author contribution
Richard Cobos developed the code, performed the computational experiments, and contributed actively in writing the manuscript; Santiago D. Salas contributed in the conceptualization of the problem, interpretation of the results, and actively writing the manuscript; Wilfredo Angulo contributed with the dynamic model, described the stability analysis, and helped shape the manuscript; T. Warren Liao contributed in the conceptualization of the problem, provided critical feedback, and helped shape the manuscript; all the authors contributed to developing the methodology.
Availability of data and materials
All data and materials are available.
Consent to participate
This article does not involve human or animal participation or data; therefore, consent to participate is not applicable.
Publisher's note
Springer Nature remains neutral with regard to jurisdictional claims in published maps and institutional affiliations.
Abstract
An intelligent control approach is proposed as an alternative for the friction stir welding of an aluminum alloy. A validated empirical model is re-written from transfer functions to a set of ordinary differential equations, allowing to observe the force dynamics as a function of inputs of interest. A defect-free set-point is proposed for exploiting available labeled experimental data which defines operational boundaries and a region in which the probability of achieving defect-free welds with good mechanical properties is the highest. An intelligent controller in the fashion of a recurrent neural network is constructed. Computational experiments were carried out to verify the adequacy in disturbance rejection as well as to visualize the capabilities in achieving the proposed defect-free set-point by the controller. The intelligent approach is compared with a set of decoupled proportional-integral controllers and a linear model predictive control strategy. From this study, it is concluded that the intelligent controller shows superiority and good applicability for the studied problem.