01.01.2015 | Ausgabe 6/2015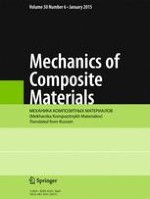 Application of the Inverse Heat Conduction Analysis to the Evaluation of Defects in Carbonfiber-Reinforced Plastics
Zeitschrift:
Autoren:

M. Muramatsu, S. Nakasumi, Y. Harada, T. Suzuki
Wichtige Hinweise
Russian translation published in Mekhanika Kompozitnykh Materialov, Vol. 50, No. 6, pp. 973-986 , November-December, 2014.
With increasing use of carbon-fiber-reinforced plastics (CFRPs) as structural materials, usable methods of nondestructive testing (NDT) are necessary for their fabrication. Recently, the infrared thermography has attracted attention as a powerful tool for NDT of CFRPs. In this study, inverse heat conduction analyses are performed to evaluate the width and depth of defects in 0/90 CFRP laminates with polyacrylonitrile (PAN)-and pitch-based carbon fibers. The thermophysical properties of the CFRP laminates are calculated on the basis of the rule of mixtures. Heat conduction analyses are then carried out. The simulation imitates NDT with infrared thermography, in which the back surface of the CFRP specimen with flat-bottom holes is heated, while temperature distributions are obtained on the front surface by using an infrared camera. Heat conduction analyses showed that the temperature distributions on the front surfaces were significantly affected by defects in the CFRP laminate with PAN-based carbon fibers, whereas that of the CFRP laminate with pitch-based carbon ones did not show clear differences in temperature.