2012 | OriginalPaper | Buchkapitel
9. Biochemical and Functional Responses of
Arabidopsis thaliana

Exposed to Cadmium, Copper and Zinc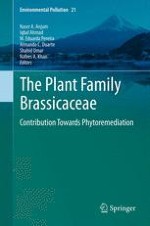 Erstes Kapitel lesen
Autoren: Adriano Sofo, Antonio Scopa, Tony Remans, Jaco Vangronsveld, Ann Cuypers
Verlag: Springer Netherlands
Jetzt einloggen
Abstract
Phytoremediation has been accepted advantageous over commonly used civil engineering remediation methods in costs, practice and the scale at which the processes operate. Understanding the metabolic answer and the adaptation of plants towards toxic metal exposure opens the way to future phytoremediation of contaminated sites. The majority of these metals get accumulated in plants and may either directly or indirectly find their way into the food chain causing severe secondary consequences. In particular, excess cadmium (Cd), copper (Cu) and zinc (Zn) are known to induce stress effects in all plant species. However, while Cu and Zn are normally present in different soils, and are part of or act as cofactors of many cell macromolecules, plants have no metabolic requirement for Cd.
Arabidopsis thaliana
L. is considered a model plant for many studies as its genomic sequence was completely identified and its mechanisms in genomic, transcriptomic and proteomic regulation are often similar to other plant species. The molecular, biochemical, physiological and morphological characteristics of this species are strongly affected by the exposure to Cd, Cu and Zn. The aim of this work is to give an up-to-date overview on the recent breakthroughs in the area of responses and adaptation of
A. thaliana
to Cd, Cu and Zn, three of the most common metals found in polluted soils, both alone and in combination. This chapter aims to contribute to a better understanding of the fundamental aspects of detoxification of metals and general responses in phytoremediation. The numerous and easily available genetic resources developed in
A. thaliana
should be extended to fast growing plant species of high biomass having significant tolerance to metals and suitable for phytoremediation purposes.