16.08.2020 | ORIGINAL ARTICLE | Ausgabe 6/2020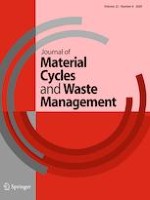 Coal bottom ash use in traditional ceramic production: evaluation of engineering properties and indoor air pollution removal ability
Zeitschrift:
Autoren:

Maneerat Ongwandee, Kan Namepol, Kamolchai Yongprapat, Sahalaph Homwuttiwong, Adisak Pattiya, John Morris, Orathai Chavalparit
Wichtige Hinweise
Publisher's Note
Springer Nature remains neutral with regard to jurisdictional claims in published maps and institutional affiliations.
Abstract
Coal bottom ash (CBA) disposed to landfills causes environmental issues. Thus, we used CBA in traditional clay ceramics that had the triple advantage of consuming troublesome waste, adsorbing volatile organics and being decorative indoors, replacing up to 40% by weight of clay with CBA and firing from 700 to 1300 °C. Clay and CBA mixtures were cast, cured at room temperature for 24 h and fired at several temperatures. Firing temperature impacted linear shrinkage, water absorption and fracture toughness, more strongly than CBA mixing proportion. Above 1000 °C, fracture toughness and water absorption resistance was enhanced but shrinkage increased. However, adding CBA lessened the contraction. SEM confirmed complete sintering as clay particles fused as a rigid solid above 1000 °C. X-ray diffraction patterns of ceramics containing CBA showed crystobalite and labradorite, in addition to quartz, due to flux materials in CBA. Leachability tests showed that the CBA ceramics were not 'toxic' on the USEPA TCLP regulatory list. Adsorption of gaseous toluene, a representative indoor pollutant, followed a Freundlich model: CBA made the adsorption sites more homogeneous, reduced the interaction mechanisms on the surfaces and thus the Freundlich exponent. Increased CBA increased toluene adsorption by 2–7 times.