01.11.2014 | Ausgabe 11/2014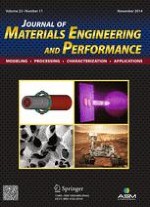 Coarse-Grained W

p

C-Fe Hardmetals with High Hardness Fabricated by Direct Current Arc In Situ Metallurgy
Zeitschrift:
Autoren:

Jing Chi, Huiqi Li, Jian Zhao, Shufeng Wang, Min Li, Qiang Ji, Jiannan Li
Abstract
Coarse-grained W
p
C-Fe (
P
= 1,2) hardmetals were fabricated with tungsten and graphite powders by the direct current arc in situ metallurgy technique. Investigations on the microstructures, morphology evolution, and performance for the resultant materials were also carried out. It is found that with decreasing the applied current, the content of W
2
C decreases, but the content and grain size of WC increase. The largest WC grain can reach around 150 μm. The shape of WC changes from hexangular prism to truncated triangle prism, and ultimately transforms into triangular prism due to the different growth rates of the prismatic planes. Furthermore, a layer by layer growth mode of the WC was observed. The performance tests indicate that the average microhardnesses of the WC and W
2
C are 2559 and 1916 HV
0.2
, respectively. For the WC grain, the microhardness of 2761 HV
0.2
of the triangular basal plane is much higher than the 2357 HV
0.2
of the prismatic plane.