01.08.2011 | Originals Originalarbeiten | Ausgabe 3/2011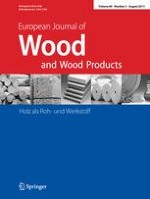 Compressive behaviour of axially loaded spruce wood under large deformations at different strain rates
Zeitschrift:
Autoren:

Martin Neumann, Jürgen Herter, Bernhard O. Droste, Sylvius Hartwig
Abstract
Impact limiting components of packages for the transport of radioactive materials are often designed as wood filled steel constructions. Wood absorbs major part of the impact energy in order to minimise the impact load acting upon the containment. Dynamic impact experiments with wood filled impact limiters showed different crushing mechanisms for axially loaded wood depending on their lateral constraint. Tests on spruce wood samples (
Picea abies
) were performed in order to clarify the influence of strain rate from static to 30 s
−1
on a) compression strength, b) stress at a global strain level of 50%, and c) energy absorption capacity at 50% deformation, including statistical evaluation of the results. Results were as follows: strain rate increase led to significantly higher compression strength, stress and strain energy at a strain level of 50%. Lateral strain restriction had no effect on compression strength; it had a significant effect on stress and strain energy at strain level of 50%. Therefore, the definition of a general yield curve for wood under large deformations is not possible, the yield curve has to be chosen taking into account lateral constraints.