01.08.2014 | Ausgabe 16/2014 Open Access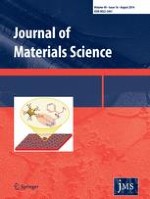 Conjugated polymers as robust carriers for controlled delivery of anti-inflammatory drugs
Zeitschrift:
Autoren:

Katarzyna Krukiewicz, Jerzy K. Zak
Abstract
Conjugated polymers due to their reversible transition between the redox states are potentially able to immobilise and release ionic species. In this study, we have successfully developed a conducting polymer system based on poly(3,4-ethylenedioxythiophene) (PEDOT) for electrically triggered, local delivery of an ionic form of ibuprofen (IBU), a non-steroidal anti-inflammatory, and analgesic drug. It was shown that by changing the electropolymerisation conditions, the polymer matrix of specified IBU content can be synthesised. The electrochemical synthesis has been optimised to obtain the conducting matrix with the highest possible drug content. The process of electrically stimulated drug release has been extensively studied in terms of the dynamics of the controlled IBU release under varying conditions. The maximum concentration of the released IBU, 0.66 (±0.10) mM, was observed at the applied potential
E
= −0.5 V (vs. Ag/AgCl). It was demonstrated that the immobilisation-release procedure can be repeated several times making the PEDOT matrix promising materials for controlled drug release systems applied e.g. in neuroprosthetics.