05.09.2020 | Regular Paper | Ausgabe 2/2021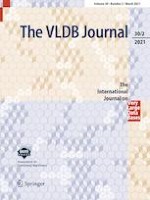 Continuous top-
k

spatial–keyword search on dynamic objects
Zeitschrift:
Autoren:

Yuyang Dong, Chuan Xiao, Hanxiong Chen, Jeffrey Xu Yu, Kunihiro Takeoka, Masafumi Oyamada, Hiroyuki Kitagawa
Wichtige Hinweise
Publisher's Note
Springer Nature remains neutral with regard to jurisdictional claims in published maps and institutional affiliations.
Abstract
As the popularity of SNS- and GPS-equipped mobile devices rapidly grows, numerous location-based applications have emerged. A common scenario is that a large number of users change location and interests from time to time; e.g., a user watches news, blogs, and videos while moving outside. Many online services have been developed based on continuously querying spatial–keyword objects. For instance, Twitter adjusts advertisements based on the location and the content of the message a user has just tweeted. In this paper, we investigate the case of
dynamic
spatial–keyword objects whose locations and keywords change over time. We study the problem of continuously tracking top-
\(k\)
dynamic spatial–keyword objects for a given set of queries. Answering this type of queries benefits many location-aware services such as e-commerce potential customer identification, drone delivery, and self-driving stores. We develop a solution based on a grid index. To deal with the changing locations and keywords of objects, our solution first finds the set of queries whose results are affected by the change and then updates the results of these queries. We propose a series of indexing and query processing techniques to accelerate the two procedures. We also discuss batch processing to cope with the case when multiple objects change locations and keywords in a time interval and top-
\(k\)
results are reported afterward. Experiments on real and synthetic datasets demonstrate the efficiency of our method and its superiority over alternative solutions.