2019 | OriginalPaper | Buchkapitel
5. Customer Experience im B2B-Bereich: Die Gestaltung von Kundenerlebnissen im Kongresstourismus am Beispiel der HOFBURG Vienna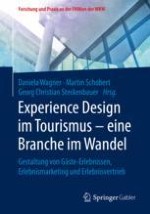 Erstes Kapitel lesen
Autoren: Julia Lotter, Stephanie Tischler
Verlag: Springer Fachmedien Wiesbaden
Zusammenfassung
Die Erfüllung von stetig wachsenden Kundenanforderungen wird nicht nur für Tourismusbetriebe zunehmend schwieriger. Aus diesem Grund empfehlen zahlreiche Autoren (z. B. Gouthier et al. 2012, Customer Experience, Kundenbegeisterung und Service Excellece – Die Spezifikation DIN SPEC 77224. In
Customer Experience. Forum Dienstleistungsmanagement
, Hrsg. M. Bruhn und K. Hadwich, 63–83. Wiesbaden: Springer; Sultana 2008, Achieving customer satisfaction through customer experience.
CMRD Journal of Management Research
7(1): 59–63), das Konzept der Customer Experience anzuwenden, um eine besondere Kundenerfahrung gewährleisten zu können. Die bestehende Literatur weist gleichzeitig jedoch darauf hin, dass viele Unternehmen nicht in der Lage sind, dieses Konzept erfolgreich umzusetzen. So arbeiten Unternehmen mit diffusen oder inadäquaten Definitionen der Customer Experience und wenden unvollständige oder unpassende Herangehensweisen zur Gestaltung des Konzepts an (Kamaladevi 2010, Customer experience management in retailing.
Business Intelligence Journal
3(1): 37–54; Ritchie und Hudson 2009, Understanding and meeting the challenges of consumer/tourist experience research.
International Journal of Tourism Research
11(2): 111–126). Dies gilt nicht zuletzt deshalb, weil konkrete Definitionen der Bestandteile einer erfolgreichen Customer Experience fehlen (Rageh et al. 2013, Using netnography research method to reveal the underlying dimensions of the customer/tourist experience.
Qualitative Market Research: An International Journal
16(2): 126–149, S. 127). Zudem wurden insbesondere die touristische Customer Experience sowie deren Dimensionen in der Vergangenheit wissenschaftlich häufig außer Betracht gelassen (Quan und Wang 2004, Towards a structural model of the tourist experience: An illustration from food experiences in tourism.
Tourism Management
25(3): 297–305, S. 297). Wie Kunden selbst eine touristische Customer Experience erleben, ist ein weiterer bisher sehr wenig erforschter Aspekt dieser Thematik (Walls et al. 2011, An epistemological view of consumer experiences.
International Journal of Hospitality Management
30(1): 10–21, S. 19 f.). Überdies wurde der Bereich der B2B-Customer-Experience kaum untersucht (Payne et al. 2008, Managing the co-creation of value.
Journal of the Acadmey of Marketing Science
36(1): 83–96, S. 94).