01.09.2014 | Original Article | Ausgabe 9/2014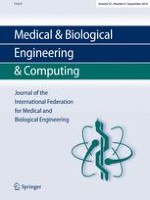 Decision support system for age-related macular degeneration using discrete wavelet transform
Zeitschrift:
Autoren:

Muthu Rama Krishnan Mookiah, U. Rajendra Acharya, Joel E.W. Koh, Chua Kuang Chua, Jen Hong Tan, Vinod Chandran, Choo Min Lim, Kevin Noronha, Augustinus Laude, Louis Tong
Abstract
Age-related macular degeneration (AMD) affects the central vision and subsequently may lead to visual loss in people over 60 years of age. There is no permanent cure for AMD, but early detection and successive treatment may improve the visual acuity. AMD is mainly classified into dry and wet type; however, dry AMD is more common in aging population. AMD is characterized by drusen, yellow pigmentation, and neovascularization. These lesions are examined through visual inspection of retinal fundus images by ophthalmologists. It is laborious, time-consuming, and resource-intensive. Hence, in this study, we have proposed an automated AMD detection system using discrete wavelet transform (DWT) and feature ranking strategies. The first four-order statistical moments (mean, variance, skewness, and kurtosis), energy, entropy, and Gini index-based features are extracted from DWT coefficients. We have used five (
t
test, Kullback–Lieber Divergence (KLD), Chernoff Bound and Bhattacharyya Distance, receiver operating characteristics curve-based, and Wilcoxon) feature ranking strategies to identify optimal feature set. A set of supervised classifiers namely support vector machine (SVM), decision tree,
\(k\)
-nearest neighbor (
\(k\)
-NN), Naive Bayes, and probabilistic neural network were used to evaluate the highest performance measure using minimum number of features in classifying normal and dry AMD classes. The proposed framework obtained an average accuracy of 93.70 %, sensitivity of 91.11 %, and specificity of 96.30 % using KLD ranking and SVM classifier. We have also formulated an AMD Risk Index using selected features to classify the normal and dry AMD classes using one number. The proposed system can be used to assist the clinicians and also for mass AMD screening programs.