01.04.2013 | Research Paper | Ausgabe 4/2013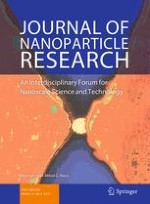 Design and experimental evaluation of a new nanoparticle thermophoretic personal sampler
Zeitschrift:
Autoren:

Nkwenti Azong-Wara, Christof Asbach, Burkhard Stahlmecke, Heinz Fissan, Heinz Kaminski, Sabine Plitzko, Dieter Bathen, Thomas A. J. Kuhlbusch
Abstract
A personal sampler that thermophoretically samples particles between a few nanometers and approximately 300 nm has been designed and first prototypes built. The thermal precipitator (TP) is designed to take samples in the breathing zone of a worker in order to determine the personal exposure to airborne nanomaterials. In the sampler, particles are deposited onto silicon substrates that can be used for consecutive electron microscopic (EM) analysis of the particle size distribution and chemical composition of the sampled particles. Due to very homogeneous size-independent particle deposition on a large portion of the substrate, representative samples can be taken for offline analysis. The experimental evaluation revealed a good general agreement with numerical simulations concerning homogeneity of the deposit and a very high correlation (
R
² = 0.98) of the deposition rate per unit area with number concentrations simultaneously measured with an SMPS for particle sizes between 14 and 305 nm. The samplers' small size of only 45 x 32 × 97 mm
3
and low weight of only 140 g make it perfectly suitable as a personal sampler. The power consumption for temperature control and pump is around 1.5 W and can be easily provided by batteries.