01.12.2010 | Ausgabe 12/2010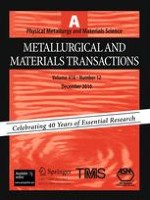 Dissolution and Interface Reactions between Palladium and Tin (Sn)-Based Solders: Part I. 95.5Sn-3.9Ag-0.6Cu Alloy
Zeitschrift:
Autoren:

Paul T. Vianco, Jerome A. Rejent, Gary L. Zender, Paul F. Hlava
Wichtige Hinweise
U.S. GOVERNMENT WORK NOT PROTECTED BY U.S. COPYRIGHT
Manuscript submitted June 12, 2009.
Abstract
The interface microstructures and dissolution behavior were studied, which occur between 99.9 pct Pd substrates and molten 95.5Sn-3.9Ag-0.6Cu (wt pct, Sn-Ag-Cu) solder. The solder bath temperatures were 513 K to 623 K (240 °C to 350 °C). The immersion times were 5 to 240 seconds. The IMC layer composition exhibited the (Pd, Cu)Sn
4
(Cu, 0 to 2 at. pct) and (Pd, Sn) solid-solution phases for all test conditions. The phases PdSn and PdSn
2
were observed only for the 623 K (350 °C), 60 seconds test conditions. The metastable phase, Pd
11
Sn
9
, occurred consistently for the 623 K (350 °C), 240 seconds conditions. Palladium-tin needles appeared in the Sn-Ag-Cu solder, but only at temperatures of 563 K (290 °C ) or higher, and had a (Pd, Cu)Sn
4
stoichiometry. Palladium dissolution increased monotonically with both solder bath temperature and exposure time. The rate kinetics of dissolution were represented by the expression
At
n
exp(∆
H
/R
T
), where the time exponent (
n
) was 0.52 ± 0.10 and the apparent activation energy (∆
H
) was 44 ± 9 kJ/mol. The IMC layer thickness increased between 513 K and 563 K (240 °C and 290 °C) to approximately 3 to 5
µ
m, but then was less than 3
µ
m at 593 K and 623 K (320 °C and 350 °C). The thickness values exhibited no significant time dependence. As a protective finish in electronics assembly applications, Pd would be relatively slow to dissolve into molten Sn-Ag-Cu solder. The Pd-Sn IMC layer would remain sufficiently thin and adherent to a residual Pd layer so as to pose a minimal reliability concern for Sn-Ag-Cu solder interconnections.