01.09.2012 | Ausgabe 3/2012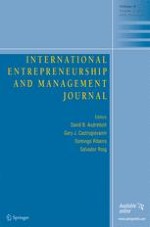 Do board composition and investor type influence innovativeness in SMEs?
Autoren:

Sven H. De Cleyn, Johan Braet
Abstract
Companies need to adapt and evolve if they wish to survive. Future success lies in the ability to develop innovative solutions for customer's problems and needs. This study aims to explore the influence of corporate governance and ownership structure on (product) innovativeness in a sample of 49 small and medium sized firms (SMEs) in the Belgian manufacturing industries. The main findings of the study are twofold. Firstly, a significant positive relationship between innovativeness and the size of a firm's board has been found. Secondly, business-to-consumer markets tend to be more innovative than business-to-business markets. No significant relationship was found between the investor type and a firm's innovativeness.