02.01.2019 | Ausgabe 1/2019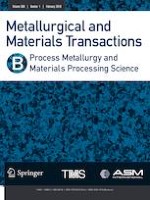 Effect of B2O3 Addition on Electrical Conductivity and Structural Roles of CaO-SiO2-B2O3 Slag
Zeitschrift:
Autoren:

Pan Zhang, Junhao Liu, Zhi Wang, Guoyu Qian, Wenhui Ma
Wichtige Hinweise
Manuscript submitted July 8, 2018.
Abstract
The effect of B
2
O
3
addition on electrical conductivity of CaO-SiO
2
-B
2
O
3
slag was investigated using the four-electrode method. The slag structure was determined from Raman and nuclear magnetic resonance spectra. The experimental results show that the electrical conductivity, as the B
2
O
3
content in the slag increased from 0 to 10 pct, monotonously increases from 0.0769 to 0.2642 Ω
−1
cm
−1
at temperatures ranging from 1783 to 1873 K (1510 °C to 1600 °C). The effects of temperature on electrical conductivity obeyed the Arrhenius law, and the electrical conductivity increased as the temperature increased. The Raman spectra results indicated that addition of B
2
O
3
led to an increase of
Q
3
(Si) at the cost of
Q
2
(Si), which will increase the degree of polymerization of the slag.
11
B nuclear magnetic resonance spectra showed that both BO
3
trigonal and BO
4
tetrahedral structures increased with the increasing B
2
O
3
content. There was a competitive effect between the presence of these structures and an enhanced degree of polymerization of slags in the networks, which resulted in the increased electrical conductivity of the slag. A structure–electrical conductivity model for CaO
-
SiO
2
-
B
2
O
3
slag was established.