17.11.2016 | Ausgabe 5/2017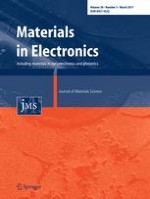 Enhanced electrical characteristics of sol–gel-derived amorphous SrTiO3 films
Autoren:

Manwen Yao, Fei Li, Yong Peng, Jianwen Chen, Zhen Su, Xi Yao
Abstract
Amorphous SrTiO
3
thin films were fabricated on Pt (100)/Ti/SiO
2
/Si substrates by sol–gel and spin-coating technology and their surface and cross-section morphology were characterized by using field emission scanning electron microscopy. A broad absorption band at about 3390 cm
−1
owing to the stretching vibrations of hydroxyl groups in the absorbed water was observed from fourier transform infrared spectroscopy.
J
–
E
measurements were used to investigate the electrical characteristics of SrTiO
3
films. The breakdown characteristics and leakage current are strongly dependent upon their electrode materials. SrTiO
3
films with Al top electrodes exhibit significantly higher breakdown strength and much lower leakage current than those with Au top electrodes. Moreover, samples with Al electrodes exhibit distinct electrical characteristics when a negative voltage was applied under different testing conditions. The surface chemical state of aluminum was analyzed by using X-ray photoelectron spectroscopy, indicating that the 45 nm thick Al electrode was completely transformed into aluminum oxide layer when a positive voltage was applied. These results show that the anodic oxidation of the Al electrodes and films is suggested to be responsible for the enhanced electrical characteristics of SrTiO
3
thin films.