01.08.2014 | Ausgabe 4/2014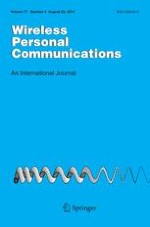 Exploitation of Diversity in Cooperative Spectrum Sharing with the Four-way Relaying AF Transmission
Zeitschrift:
Autoren:

Truc Thanh Tran, Hyung Yun Kong
Abstract
This paper investigates a cooperative spectrum sharing model where both the primary and secondary systems are two-way relaying-based systems. This model is also known as four-way relaying-based cooperative spectrum sharing. In the scenario of multiple relays, we propose a transmission scheme that enables a degradation-free primary system, exploitation of spatial diversity without using any interference constraint at the primary receivers. In this scheme, both of the primary and secondary systems employ the two-way amplify-and-forward (AF) relaying-based transmission (TW-AF-RT) within two timeslots and with the help of
\(M\)
relays
\(R_1,\ldots ,R_M\)
. The system operates in three modes: simultaneous sharing (SimS) mode, primary-single-access (PSA) mode, and secondary-single-access (SSA) mode. The SimS mode is a four-way AF relaying-based transmission, and it is prioritized when at least one relay node satisfies that both systems are not in outage. In this mode, the pulse-amplitude-modulation (PAM) signal is employed to present the information messages of the sources. As a result, the best relay selection method, which is based on the max–min rule, is still applicable for the exploitation of spatial diversity in this mode. Only the primary system accesses the spectrum in the PSA mode while only the secondary system does this in the SSA mode. In both the PSA and SSA modes, complex signals are used to present the information messages of the related sources instead of PAM signals. These modes are used when the SimS mode is not available. The analysis and simulation results are conducted to validate the advantages of the proposed scheme.