17.05.2016 | Original Paper | Ausgabe 4/2016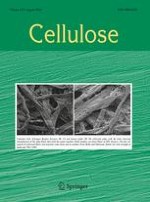 Fabrication of microfibrillated cellulose gel from waste pulp sludge via mild maceration combined with mechanical shearing
Zeitschrift:
Autoren:

Nusheng Chen, J. Y. Zhu, Zhaohui Tong
Abstract
This article describes a facile route, which combines mild maceration of waste pulp sludge and a mechanical shearing process, to prepare microfibrillated cellulose (MFC) with a high storage modulus. In the maceration, the mixture of glacial acetic acid and hydrogen peroxide was used to extract cellulose from never-dried waste pulp sludge. Then, two different mechanical processes including disc refining (DR) and ultrasonication plus homogenization (UH) were applied to the cellulose after maceration and resulted in MFC with a highly tangled fibril network. All of the resultant cellulosic suspensions (2 % w/w) exhibited a gel-like and shear-thinning behavior with storage moduli (
G
′) ranging from 200 to 4000 Pa. Among them, the 30-min DR-treated MFC gels had the maximum
G
′, which was much higher than for previously reported MFC gels at the same concentration. Additionally, after mechanical processing, specific surface areas and water retention values of MFC were accordingly increased with the enhancement of shear force, while the storage moduli (
G
′) were not consistently increased. Finally, a strong MFC gel was successfully prepared from never-dried waste pulp sludge via a one-step disc refining process and using cost-effective chemicals. The obtained hydrogels will have potential as low-density reinforcing fillers or as a template for further surface modification.