20.02.2018 | Energy materials | Ausgabe 11/2018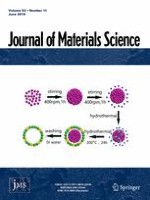 Flexible supercapacitor with high energy density prepared by GO-induced porous coral-like polypyrrole (PPy)/PET non-woven fabrics
Zeitschrift:
Autoren:

Yuedan Wang, Yang Zhang, Weibing Zhong, Xing Qing, Quan Zhou, Qiongzhen Liu, Wenwen Wang, Xue Liu, Mufang Li, Dong Wang
Wichtige Hinweise
Yuedan Wang and Yang Zhang have contributed equally to this work.
Abstract
Graphene oxide (GO)-induced porous coral-like polypyrrole have been fabricated via facile in situ polymerization. The morphologies and structures of PPy with different GO concentration were investigated by scanning electron microscopy and Fourier transform infrared spectroscopy. The results revealed that PPy/GO presented different morphologies and properties with varied amounts of GO. The electrochemical performances of prepared PPy/GO and PPy electrodes were compared. Notably, the PPy/GO electrodes showed much better electrochemical performance than the PPy electrodes. It indicated that the doping of GO in the composites significantly enhanced the electrochemical behaviors of PPy/GO electrodes. The excellent performance was the result of synergistic effects of GO and PPy structure and property. The device obtained a large specific capacitance of 568.35 F g−1 at a current density of 0.1 A/g and high energy density of 37.4 Wh kg−1. In addition, it also exhibited good cycle stability, with a capacitance retention rate of 83.4% for 500 cycles. More importantly, the electrode presented high flexibility property. The supercapacitor device fabricated is promising for the use in lightweight and flexible electronic devices.