01.06.2011 | Research Article | Ausgabe 6/2011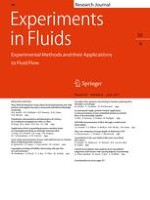 Full-field measurements of flow through a scaled metal foam replica
Zeitschrift:
Autoren:

Andrew J. Onstad, Christopher J. Elkins, Frank Medina, Ryan B. Wicker, John K. Eaton
Abstract
Open-celled foam geometries show great promise in heat/mass transfer, chemical treatment, and enhanced mixing applications. Flow measurements on these geometries have consisted primarily of observations of the upstream and downstream effects the foam has on the velocity field. Unfortunately, these observations give little insight into the flow inside the foam. We have performed quantitative flow measurements inside a scaled replica of a metal foam, ϕ = 0.921,
D
Cell
= 2.5 mm, by Magnetic Resonance Velocimetry to better understand the fluid motion inside the foam and give an alternative method to determine the foam cell and pore sizes. Through these 3-D, spatially resolved measurements of the flow field for a cell Reynolds number of 840, we have shown that the transverse motion of the fluid has velocities 20–30% of the superficial velocity passing through the foam. This strong transverse motion creates and dissipates streamwise jets with peak velocities 2–3 times the superficial velocity and whose coherence length is strongly correlated to the cell size of the foam. This complex fluid motion is described as "mechanical mixing" and is attributed to the geometry of the foam. A mechanical dispersion coefficient,
D
M
, was formed which demonstrates the transverse dispersion of this geometry to be 14 times the kinematic viscosity and 10 times the thermal diffusivity of air at 20°C and 1 atm.