01.08.2016 | Original Article | Ausgabe 4/2016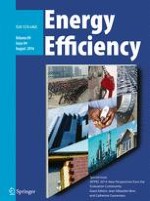 Guided group purchases of energy renovation services and works in deprived urban neighbourhoods
Zeitschrift:
Autoren:

Christine Ruelle, Jacques Teller
Abstract
The energy retrofitting of housings is progressing very slowly in Wallonia (Belgium) despite individual fiscal measures and subsidies offered by public authorities to support households engaging in this process. This paper explores the use of a method called 'guided group purchases' (GPPs), i.e. an approach combining support, guidance and group purchasing of energy renovation services and works as a possible method to accelerate the retrofitting of the existing housing stock. It reports on an action research experiment conducted in the context of the Interreg project '
sustainable urban neighbourhoods
' (SUN). The results of this experiment are quite promising. Within a few months, some 80 energy retrofitting interventions (energy audits or insulation works) were implemented in one neighbourhood of the city of Liège. Our evaluation of the experiment showed that the prospect of achieving cost reductions was one of the main initial expectations of participants to the GGPs. Still, the participants rather insisted on other benefits after taking part in the initiative. These benefits were mostly related to the guidance they received, to the facilitation with contractors and to the social dynamics generated by the initiative. Several weaknesses were also identified by the participants, like the lack of follow-up during and after the works. Our evaluation also highlighted that the main landlords did not participate in the initiative and that the influence of GGPs on costs was limited to specific types of interventions. Despite observed limitations and possible improvements, such a neighbourhood-based approach certainly constitutes a promising avenue for public authorities to support and accelerate the energy retrofitting of private residential buildings in urban neighbourhoods.