04.05.2016 | Ausgabe 7/2016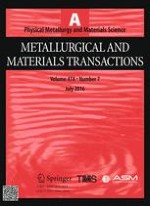 Influence of Processing Parameters on the Solidification Behavior of Single-Crystal CMSX-4 Superalloy
Zeitschrift:
Autoren:

Fu Wang, Dexin Ma, Samuel Bogner, Andreas Bührig-Polaczek
Wichtige Hinweise
Manuscript submitted December 16, 2015.
Abstract
The microstructural evolution of a superalloy, single-crystal CMSX-4 solidified at different withdrawal rates was investigated using a directional solidification quenching method. Analyses of the cross-sections within mushy zones generated the evolution of the solid volume fractions (
f
s
) during the reduction in the temperature and the solidification sequences. At the withdrawal rate of 0.3 mm min
−1
,
f
s
increases by about 81 pct within the first 23 pct of the solidification interval, whereas it increases by about 64 pct at the withdrawal rate of 0.7 mm min
−1
. The Bower–Brody–Flemings model can characterize the evolution tendency of
f
s
curve at the lower withdrawal rate, while it can not only describe the changing tendency of
f
s
, but also precisely predict the
f
s
values at higher withdrawal rate. With increasing withdrawal rate, the solidification intervals of the
γ
dendrite and
γ
/
γ
′ eutectics are increased. In addition to this, the forming site of the
γ
/
γ
′ eutectic at the lower withdrawal rate lags behind that at the higher withdrawal rate. At both the withdrawal rates the solidification of the
γ
/
γ
′ eutectic islands commences with the
γ
/
γ
′ core formed on the surface of the
γ
dendrites, then progressed spatially and developed the coarse
γ
/
γ
′ structure.