01.06.2011 | Ausgabe 2/2011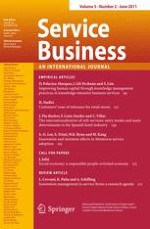 Innovation and imitation effects in Metaverse service adoption
Zeitschrift:
Autoren:

Sang-Gun Lee, Silvana Trimi, Won Ki Byun, Mincheol Kang
Abstract
This study examines the innovation and imitation effects in Metaverse service adoption. "Metaverse services" is a collective term for services such as Augmented reality, Life logging, Mirror world, and Virtual world. Among them, Twitter, Google, iPhone, and Secondlife (T.G.I.S) are the most popular services/products these days. To measure the adoption of these product/services, the most commonly used are IP traffic and iPhone sales. Thus, in this study, we measured adoption by measuring changes in the IP traffic volume of
Twitter.​com
,
Maps.​Google.​com
,
Secondlife.​com
, and sales for iPhone during a 2-year period (from the first quarter of 2008 to the fourth quarter of 2009). To analyze this time series data to reveal the innovation and imitation effect, we employed the Bass model. The results showed that each of these services yields different innovation and imitation coefficient values. Imitation effects for all Metaverse services are greater than innovation effects, and Secondlife's innovation effects are larger than others. Also, iPhone sales, as a measurement for information and communication technology (ICT) products, showed greater innovation effects than the other services. Implications are drawn to explain these differences, such as, Googlemap's imitation effects are based on network externalities, while Twitter's imitation effects are caused by the interactions of individuals; iPhone sales' innovation effects are explained by the timing of the measurement.