22.12.2016 | Communication | Ausgabe 3/2017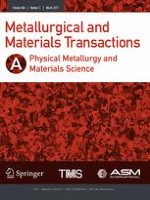 Interdiffusion and Diffusion Mobility for fcc Ni-Co-Al Alloys
Zeitschrift:
Autoren:

Yang Wang, Naqiong Zhu, Hao Wang, Xiao-Gang Lu
Wichtige Hinweise
Manuscript submitted April 26, 2016.
Abstract
Ternary fcc Ni-Co-Al diffusion couples annealed at 1173 K (900 °C), 1373 K (1100 °C), and 1573 K (1300 °C) have been studied by using electron probe microanalysis. The interdiffusion coefficients were extracted using the Sauer–Freise and Whittle–Green methods from the measured concentration profiles of binary and ternary diffusion couples, respectively. Based on the diffusion coefficients reported in the literature and those determined in the present work, the diffusion mobilities for fcc Ni-Co-Al alloys were assessed. In general, reasonable agreements were reached and the resulted mobility database can be used to study the diffusion behavior of the ternary fcc Ni-Co-Al alloys in a wide composition range.