31.10.2019 | Technical Paper | Ausgabe 4/2020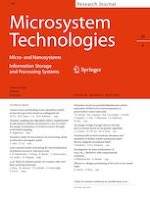 Investigating the impact of thermal annealing on the photovoltaic performance of chemical bath deposited SnO2/p-Si heterojunction solar cells
Zeitschrift:
Autoren:

Anannya Bhattacharya, Jenifar Sultana, Subhrajit Sikdar, Rajib Saha, Sanatan Chattopadhyay
Wichtige Hinweise
Publisher's Note
Springer Nature remains neutral with regard to jurisdictional claims in published maps and institutional affiliations.
Abstract
The current work investigates the impact of annealing temperature on the optoelectronic properties of SnO2 thin films grown by chemical bath deposition (CBD) method. The as-grown SnO2 films, on p-Si substrate, are annealed at 200 °C and 400 °C for 10 min in Ar ambient for investigating the impact of such annealing on the performance of SnO2/p-Si heterojunction solar cells. The growth of a uniform SnO2 film on Si surface has been confirmed from SEM studies and the chemical composition and optical properties of the as-grown and annealed films are investigated in detail by employing XRD and ellipsometric measurements. Absorption coefficient of the samples is observed to vary in the range of 24 × 105 – 60 × 105/m, at its band gap (3.0 eV). The current–voltage characteristics under both dark and illuminated conditions suggest superior voltaic performance of the 200 °C annealed SnO2 film. The short-circuit current density, open-circuit voltage and fill-factor are obtained to be 0.45 mA/cm2, 5.41 mA/cm2 and 0.4 V, 0.34 V and 13%, 8% respectively for as-grown and 200 °C annealed samples. The maximum power conservation efficiency (η) of 4.9% is obtained for the 200 °C annealed sample. Thus, the study indicates the potential of CBD-grown SnO2 film for photovoltaic applications.