01.08.2014 | Technical Article | Ausgabe 4/2014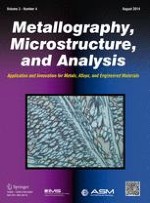 Lattice Vibration Measurements of Atomic Planes Using the Interference of Thermal Diffuse Scattered Electrons
Zeitschrift:
Autor:

Rodney A. Herring
Wichtige Hinweise
This article is an invited paper selected from presentations at the 2013 Microscopy & Microanalysis Conference, held August 4–8, 2013, in Indianapolis, Indiana, USA, and has been expanded from the original presentation.
Dedicated to Henry Clifton Sorby's 150 year anniversary of finding crystal grains in materials.
Abstract
Lattice vibrations of the atomic planes have been measured using the self-interference of its thermal diffuse scattered (TDS) electron intensity on the diffraction plane by means of diffracted beam interferometry. Reconstruction of the fringes in the TDS intensity using the 222 Bragg diffracted beam of aluminum as the carrier frequency has found a wide range of vibrational frequencies existing between the atomic planes, as expected, but also some lateral vibrational components that likely represent vibrations which are parallel to the atomic planes.