01.08.2016 | Ausgabe 10/2016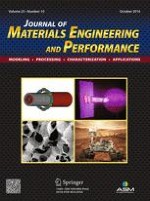 Mechanical Properties of Injection-Molded Glass Microsphere-Reinforced Polyamide
Zeitschrift:
Autoren:

C. Capela, J. M. Ferreira, J. M. Costa, N. Mendes
This paper presents new studies of the physical and mechanical characterization of PA6 matrix composites with different volume fractions of glass microspheres (10, 15, 20, 25 and 30%), which have been processed in an industrial environment. The mechanical properties of different processed composites were obtained by three-point bending tests, and the influence of the time of immersion in water in the strength and modulus was analyzed. The mechanical properties obtained in static tests and DMA tests of the processed composites demonstrated significant increases with an increasing volume fraction of the glass microspheres. In fracture toughness tests,
K
IC
values higher than 12% were obtained. On the contrary, the immersion in water for 20 days promotes a decrease in flexural strength and flexural modulus greater than 11 and 22%, respectively. Finally, the influence of the addition of glass microspheres to the polyamide matrix was analyzed, and the increase in Tg with increasing fraction of the glass microspheres was observed.