01.05.2019 | Original Article | Ausgabe 10/2019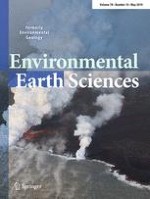 Microscopic structure changes of Malan loess after humidification in South Jingyang Plateau, China
Zeitschrift:
Autoren:

Xiaozhou Zhang, Yudong Lu, Xin Li, Yangchun Lu, Wangsheng Pan
Wichtige Hinweise
Publisher's Note
Springer Nature remains neutral with regard to jurisdictional claims in published maps and institutional affiliations.
Abstract
As a major engineering material, loess has complex structure and properties. This complexity is manifested in the open metastable packing structure and collapsibility, thereby causing considerable trouble to the environment and human habitation. Several scholars have attempted to reveal the nature of loess. Its structure was investigated using scanning electron microscopy, and the collapsibility was observed in in-suit and laboratory. Results indicate that there is a close relationship between loess collapsibility and structure. Loess collapsibility is the destruction of its metastable structure. Given limited experimental equipment and methods, observing the changes in particle arrangement directly before and after humidification in the same area is difficult. Therefore, the mechanism of loess collapsibility is mainly summarized from experimental observation data or reasonable speculation. In this work, we observed the specific movement and changes of particles in the same area by fixing certain sites in an environment scanning electron microscope of these samples. Six samples were prepared at the beginning of the experiment, and the special sites were fixed at each sample. During the observation we found that three samples could not efficaciously perform micrography efficaciously because the uneven electron conduction excessively brightened the particles to be observed. The three other samples dropped water carefully for humidification in the following 5 days, and the fixed sites were re-observed in the ESEM for the second time. Results showed that loess collapsibility is a macroscopic manifestation under the change in intergranular cementation. In addition, intergranular cement would not completely disappear during once humidification process. By contrast, along with the movement of water, the cement can regroup in an appropriate place and bind the particles until the next humidification process. This condition also causes loess to collapse in every humidification process. This phenomenon has been frequently overlooked by many scholars.