01.08.2016 | Ausgabe 1/2016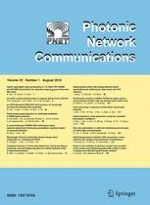 Performance analysis of MIMO–OFDM free space optical communication system with low-density parity-check code
Zeitschrift:
Autoren:

Manish Sharma, D. Chadha, Vinod Chandra
Abstract
In this paper, we have evaluated the performance of a low-density parity-check (LDPC)-coded multiple-input multiple-output (MIMO) orthogonal frequency division multiplexing (OFDM) free space optical (FSO) communication system. Closed form expressions for the average bit error rate and throughput with diversity using equal gain combining have been obtained for the system under consideration. The Monte Carlo simulation has been carried out for the verification of the results. The performance of the QPSK and 16 QAM modulations is evaluated for different weather and atmospheric turbulence conditions. The results are also compared for both, QPSK and 16 QAM for SISO–OFDM,
\(2\times 2\)
and
\(4 \times 4\)
MIMO–OFDM FSO communication system. The results show that the performance of the system under consideration improves, as we move from SISO–OFDM to
\(4 \times 4\)
MIMO–OFDM. The results also show that the effect of weather is very much pronounced on the system and the performance in terms of average bit error rate of QPSK is better than 16 QAM in the presence of every weather condition. However, the later provides better throughput. Regular LDPC codes with code rate 1/2 have been applied to the simulated results, yielding high coding gains. Coding gain of 29.5 and 22 dB is achieved for QPSK and 16 QAM, respectively, for
\(4 \times 4\)
MIMO–OFDM.