01.08.2014 | Ausgabe 9/2014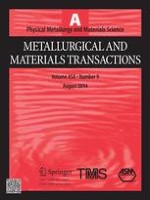 Phase Evolution and Mechanical Properties of Nano-TiO2 Dispersed Zr-Based Alloys by Mechanical Alloying and Conventional Sintering
Zeitschrift:
Autoren:

Mohan Nuthalapati, S. K. Karak, J. Dutta Majumdar, A. Basu
Wichtige Hinweise
Manuscript submitted November 27, 2013.
Abstract
The present study deals with the synthesis of 1.0 to 2.0 wt pct nano-TiO
2
dispersed Zr-based alloy with nominal compositions 45.0Zr-30.0Fe-20.0Ni-5.0Mo (alloy A), 44.0Zr-30.0 Fe-20.0Ni-5.0Mo-1.0TiO
2
(alloy B), 44.0Zr-30.0Fe-20.0Ni-4.5Mo-1.5TiO
2
(alloy C), and 44.0Zr-30.0Fe-20.0Ni-4.0Mo-2.0TiO
2
(alloy D) by mechanical alloying and consolidation of the milled powders using 1 GPa uniaxial pressure for 5 minutes and conventional sintering at 1673 K (1400 °C). The microstructural and phase evolution during each stage of milling and the consolidated products were studied by X-ray diffraction (XRD), scanning electron microscopy and transmission electron microscopy (TEM), and energy-dispersive spectroscopy. The particle size of the milled powder was also analyzed at systemic intervals during milling, and it showed a rapid decrease in particle size in the initial hours of milling. XRD analysis showed a fine crystallite size of 10 to 20 nm after 20 hours of milling and was confirmed by TEM. The recrystallization behavior of the milled powder was studied by differential scanning calorimetry. The hardness of the sintered Zr-based alloys was recorded in the range of 5.1 to 7.0 GPa, which is much higher than that of similar alloys, developed
via
the melting casting route.