01.10.2019 | ORIGINAL PAPER | Ausgabe 10/2019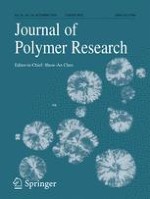 Poly(arylene ether ketone) containing amino and fluorenyl groups for highly selective of gas separation
Zeitschrift:
Autoren:

Lei Hou, Zhe Wang, Jingmei Xu, Zhaoyu Chen
Wichtige Hinweise
Publisher's note
Springer Nature remains neutral with regard to jurisdictional claims in published maps and institutional affiliations.
Abstract
In this study, a series of poly(arylene ether ketone) containing amino and fluorenyl groups (Am-PAFEK-X) were successfully prepared by the polycondensation, which was confirmed by analizing its chemical structure with the Fourier transform infrared spectroscopy (FT-IR) and nuclear magnetic resonance. It was found that Am-PAFEK-X exhibited high thermal stability (Td5 > 172 °C) and glass transition temperature (Tg > 191 °C) as well as good mechanical properties, and its highest Young's modulus and tensile strength are respectively 2299 MPa and 59 MPa. In addition, the O2, N2, CO2 and CH4 were applied to study the gas transmission properties of Am-PAFEK-X membranes to different gases, in which the Am-PAFEK-60% had the highest selectivity to CO2/N2 and CO2/CH4, respectively 31.13 and 33.36. As shown in the results, the selectivity of the membrane to CO2 increased with the increase of the large rigid fluorenyl groups, which indicated that the gas permeation results were closely related to the intermolecular interaction and the structure of the polymer chain.