01.10.2016 | Original Contribution | Ausgabe 10/2016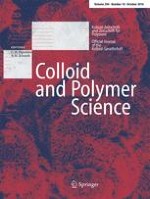 Polyethylene-thermally reduced graphene nanocomposites: comparison of masterbatch and direct melt mixing approaches on mechanical, thermal, rheological, and morphological properties
Zeitschrift:
Autoren:

Vikas Mittal, Ali U. Chaudhry
Wichtige Hinweise
Electronic supplementary material
The online version of this article (doi:
10.​1007/​s00396-016-3929-0
) contains supplementary material, which is available to authorized users.
Abstract
Two routes of nanocomposite generation, viz., the masterbatch method and direct melt mixing, were compared in the current study in relation with the properties of the polyethylene-thermally reduced graphene nanocomposites compatibilized with functional polymers. Filler dispersion was observed to improve in the masterbatch method due to preferential interactions of compatibilizer with the filler, before melt mixing with the matrix polymer. This also translated into improved mechanical properties as more than two times increment in tensile modulus was observed in the composite HDPE/G/5 EAA/MB (41 %, masterbatch method) as compared to HDPE/G/5 EAA/MM (20 %, melt mixing method). In addition, different compatibilizers also influenced the properties to a different extent owing to their physical interactions with the filler; however, composites generated with masterbatch were always superior in extent of property enhancements. Increasing the compatibilizer content to 10 % also caused varying degrees of matrix plasticization. The storage modulus as well as the complex viscosity of the HDPE/G/5 EAA/MB composite was the highest as compared to HDPE/G/5 EMAZ/MB and HDPE/G/5 EVA-MA/MB composites. HDPE/G/5 EAA/MB and HDPE/G/5 EMAZ/MB composites did not show any decrease in degree of crystallinity as compared to pure polymer, whereas the corresponding composites generated with melt mixing exhibited slight decrease in the crystallinity. The composites were observed to have enhanced thermal stability as compared to HDPE. Five percent EAA-based composites exhibited even higher thermal stability than did HDPE/G composites due to improved filler dispersion. Composites generated with the masterbatch approach had also higher degree of phase mixing than the corresponding melt mixed composites.