01.02.2020 | Research Article | Ausgabe 2/2020 Open Access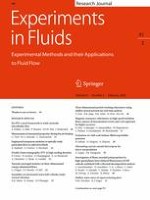 Quantitative metrics for comparison of in-cylinder velocity fields using particle image velocimetry
Zeitschrift:
Autoren:

Christopher Willman, Blane Scott, Richard Stone, David Richardson
Wichtige Hinweise
Publisher's Note
Springer Nature remains neutral with regard to jurisdictional claims in published maps and institutional affiliations.
Abstract
The in-cylinder flow field plays a key role in determining the combustion performance of internal combustion engines (ICEs) and it is critically important to validate numerical simulations of the flow field by comparison to experimental measurements using techniques such as particle image velocimetry (PIV). With the current trend for high-speed diagnostics, methods for quantitative comparison of vector fields are required which can provide robust spatially averaged results, without inspection of individual flow fields. The quality of match between vector fields, when quantified using current metrics such as the relevance index (RI), can be overly sensitive to the alignment of regions of low velocity such as the tumble vortex centre. This work presents complementary metrics, weighted using a function of the local velocity, for robust quantification of the alignment and magnitude differences between vector fields, the weighted relevance index (WRI) and the weighted magnitude index (WMI). These metrics are also normalized and combined in the combined magnitude and relevance index (CMRI). PIV measurements taken up to every 2 crank angle degrees within the tumble plane of a motored, optically accessible ICE are used to demonstrate the motivation for development and the application of the WRI, WMI, and CMRI metrics. The metrics are used to determine the number of cycles required to provide a representative mean flow field and to identify single cycles of interest. Variability of the flow field is quantified using the metrics and shows high variability in the region of the spark plug near typical ignition timings.
Graphic abstract
×