11.04.2020 | Ausgabe 1/2020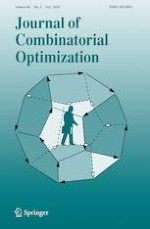 Secure domination of honeycomb networks
Zeitschrift:
Autoren:

M. R. Chithra, Manju K. Menon
Wichtige Hinweise
Publisher's Note
Springer Nature remains neutral with regard to jurisdictional claims in published maps and institutional affiliations.
Abstract
The topological structure of a network can be described by a connected graph
\(G = (V, E)\)
where V(G) is a set of nodes to be connected and E(G) is a set of direct communication links between the nodes. A physical connection between the different components of a parallel system is provided by an interconnection network. Many graph theoretic parameters are used to study the efficiency and reliability of an interconnection network. A set
\(S \subseteq V(G)\)
is said to be
secure
if the security condition, for every
\(X \subseteq S\)
,
\(\left| N[X] \cap S\right| \ge \left| N[X] - S\right| \)
holds. Now, a set
\(S \subseteq V(G)\)
is
secure dominating
, if it is both secure and dominating. The secure domination number of
G
, is the minimum cardinality of a secure dominating set in
G
. In the current era, security is definitely a desirable property for the interconnection networks and hence these type of study has wide applications. In this paper, we have studied the security number and secure domination number of Honeycomb Networks.